release time:2020-10-10
YANG LING YI MIAO CHELATION TECHNOLOGY CO., LTD Established in 2008, is specializing in the research of agricultural chelating agent of high-tech enterprises. With the EDDHA and EDDHA-Fe are successfully development and bulk production, it marked our scientific research level on the micronutrient fertilizer is the highest level in the field of domestic chelating agent.
Our factory covers an area of more than 15000 square meters, is located in Meixian Bawang river industrial zone, Shaanxi Province of China. Here has a perfect experiment instrument and testing equipment, modern environmental safety production workshop, raw material storage, and shipping department, and the complete set of synthetic equipment and micronutrient fertilizer production line
Superior quality and the great service are our first mission. Paying attention to service for customers and increase economic benefit of the farmers are the guarantee of long-term stabilized development for our company. We sincerely hope to establish partnership with domestic and overseas customers, create brilliant of the agrochemical profession in China.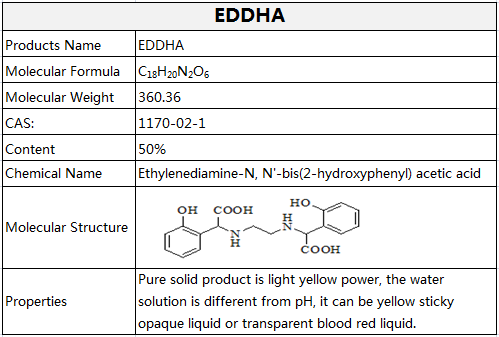 EDDHA molecular structure have Ammonia hydroxyl and hydroxyl, which is a kind of Fe chelator have great effect on Fe. Same as EDTA and belong to Ammonia hydroxyl strong chelating agent. Can chelate Fe、Cu、Mn、Zn and other elements in neutral or alkaline medium. Which can be widely used in water treatment agent、 detergents、 cosmetics、 bacteriostatic agent、Dispersant、tanning、textile auxiliaries、 pharmaceuticals、 water gel、agriculture and other fields, is a kind of extensive application, non-toxic, no pollution, degradation of environmentally friendly chemicals.
EDDHA-Fe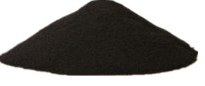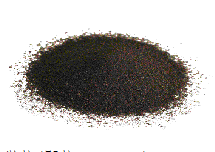 Powder Granule/Mirco granule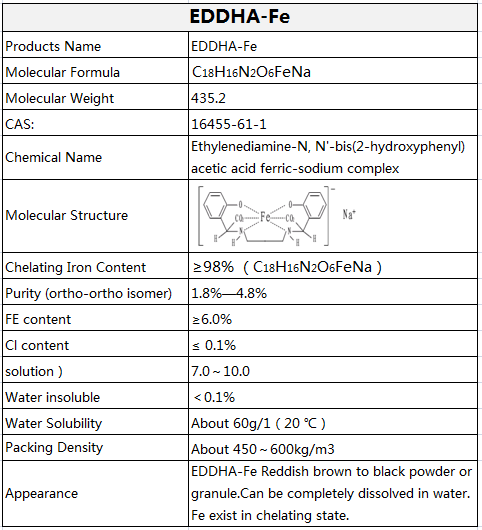 Excellent Solubility
EDDHA-Fe
EDDHA-Fe it is stable chelate micronutrients which are mainly used in agriculture, horticulture, flower, soilless cultivation etc. It's a new type nutritional supplement, with features of high solubility, high efficiency, quick effect, and wide suitability etc. It can be rapidly absorbed by crop from PH3 to PH10. EDDHA-Fe has significant effects on Yellow-leaf Disease of fruit, vegetable and crop, caused by iron deficiency; It can promote the chlorophyll synthesis of crop, enhance the photosynthesis and increase the yield effectively. Free from contamination and without residue, suitable for the production of green and pollution-free foods.

Application via drip irrigation is best; product dispersion is very high and plant uptake is very fast.
Application by digging a hole, dispersion is not good and some chlorosis symptoms can remain. This can be reduced by splitting the dose into 2 applications or repeating the application.
Application by flood irrigation leads to product losses from leaching. Dose rates should be increased by 15-25% to compensate.
Stated dose rates are maintenance applications. If severe deficiencies exist the dose rate should be adapted.
NOTE:We have EDDHA-FeK can according customer request production.
Organic Chelating Titanium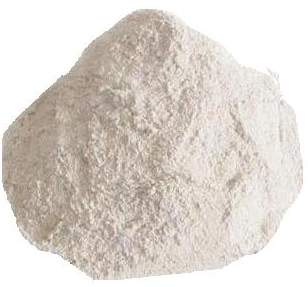 Titanium is a kind of enhance the beneficial elements of plant physiological activity. It not only enhance photosynthesis 、chlorophyll content 、Peroxidase activity and can promote the plants absorption and operation N, P, K, and other trace elements. The domestic study confirmed by isotope tracer method the production mechanism of titanium is mainly to improve the crop physiological activity, Photosynthesis intensity increased 6.6-85.8%,Chlorophyll content increased 9.0-21.7%,Nitrogen fertilizer utilization rate increase 6.6-13.7%, Phosphate fertilizer utilization rate increase 29.0%,kalium fertilizer increased 20%. Which can increase production, improve product quality in vegetable, forage grass, melon and fruit crops fertilization can increase production, improve product quality.
Titanium can complement plant nutrition, and greatly promote the plant absorption and utilization of nutrients, Titanium spraying fertilizer should be 2-3 times before and after flowering phase, Crops 5-20ppm, melons5-10ppm, fruiter7-20ppm. Titanium fertilizer can be used alone, Used with commonly used fertilizer and micronutrient fertilizer effect is better.