release time:2021-02-18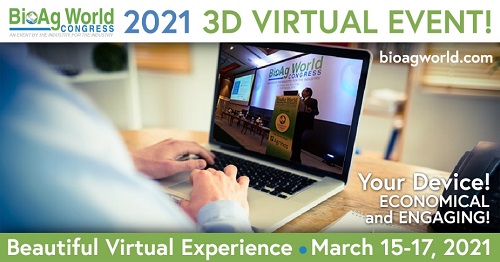 Biologicals (Biopesticides, Biostimulants, Biofertilizers, and ICM/IPM) are crucial tools needed for farmers across the globe. Europe is the largest market, followed by North America. Latin America is the fastest growing and Asia has huge untapped potential. BioAg industry is relatively new but is growing tremendously and offers great sustainable solutions for agricultural issues. As the industry keeps on growing it faces various challenges such as innovative products, quality assurance, supply chain, consumer awareness and others.
BioAg World Congress 2021 is an event by the industry for the industry in true sense. Not just the speaker and panelists are the leaders from industry rather the congress agenda is developed in consultation with various industry doyens considering different issues, strengths, and global scenario. What makes BioAg World Congress 2021 the key global industry event? There are several factors.
- Amazing Agenda

The stage is all set for the best 3D virtual event experience. BioAg World Congress 2021, the second edition, is unfolding as a terrific event with strong agenda, 35+ distinguished speakers, 7 elaborate panels, and numerous innovative exhibitors. All together its going to be an amazing learning experience. It's a rare opportunity to learn from the leaders and gain a deeper insight to the industry from the visionaries' experience and expertise. The BAW 2021 agenda is comprised of 6 sessions around four main BioAg segments – biopesticides, biostimulants, biofertilizers, and bionutritionals. The sessions will take an in-depth look at industry developments, roles of the food chain to influence biosolution adoption, soil health and water management, challenges and opportunities on regulation, go-to market, science-backed innovations, investment in bioag, and insight into growth areas such as precision AgTech.
-Biological industry 'Oscars'
In order to recognise the efforts and inspire the human resources in the industry, BioAg World Congress 2021 to set two industry awards - BioAgro Achiever Award and BioAgro Disruptor Award. The BioAgro Achiever Award aims to recognise visionary individuals who turned great ideas into valuable biosolutions for sustainable and productive agriculture and have impacted the development of the biostimulant, biocontrol or biofertilizer industries.
The purpose of BioAgro Disruptor award is to highlight innovators and their innovations in bio-agriculture to support food security and food safety in a sustainable manner. The award will be presented to the best commercial innovator based on different judging criteria. Interestingly, the three finalists will get an opportunity to present their innovation during the Congress.
-Unique Format
Excitingly, the exhibition is going to be in a 3D virtual setup, and has been put together to be the best ever virtual experience. The bioag companies from across the world are participating and will make it a once in a life-time experience to gain knowledge and experience from the comfort of your own spot.
BIoAg World Congress is a unique platform which provides participants with an opportunity to network virtually but still interact personally. It offers you a chance to be amongst the best in the industry from farmers to government officials and arbitrageurs to researches and academicians. Moreover, with early bird discount and CCA continuing education units it's the best leap for your career in BioAg industry coming your way.
Even though, the Covid 19 situation has changed everyone's plans affecting our lives and economies worldwide, the BAW Congress spirit remains intact: It is an global and professional event supported by a digital platform, that will allow increasing not only the online content but, the digital branding and networking amongst the Biostimulant, Biocontrol and Biofertilizer world community. Register for Congress today here