release time:2021-12-30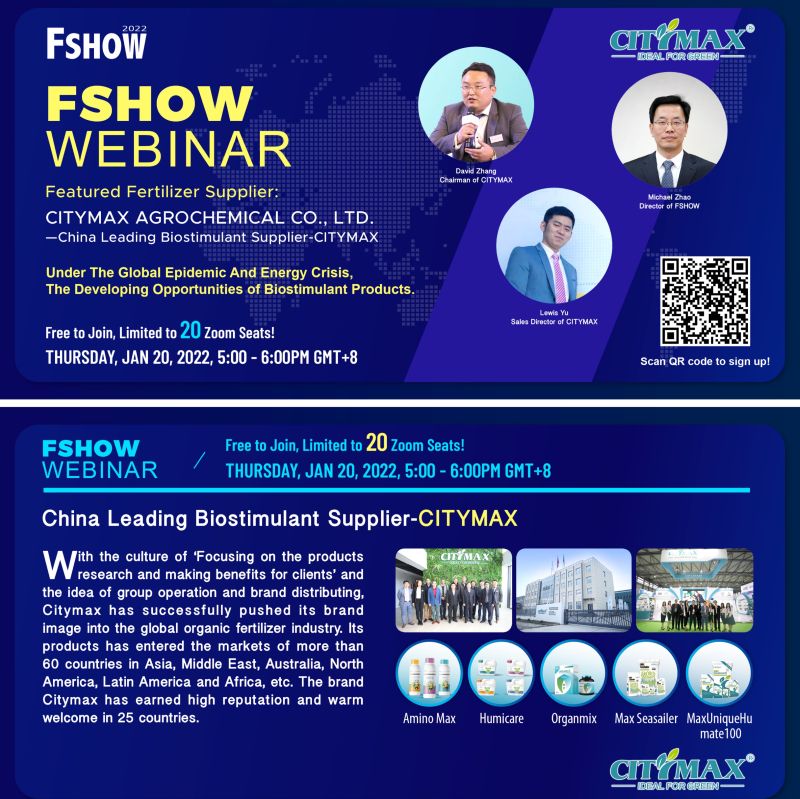 FSHOW Webinar-CITYMAX Agrochemical Co., Ltd.
Time: Thursday, January 20, 2022, 5:00-6:00PM GMT+8.
Topic: Under the Global Epidemic and Energy Crisis, the Developing Opportunities of Biostimulant Products.
FSHOW will hold a series of FSHOW Webinars to help its members to promote global trade. This time, we will invite CITYMAX Agrochemical Co., Ltd. to share their ideas of global biostimulants development and relevant products (humic acid, seaweed, etc), and to communicate with global customers. CITYMAX is a leading biostimulants supplier in China with high reputation in domestic and overseas market. Meet with CITYMAX online, find your favored fertilizer products! If you are interested in the webinar, please click the registration link below or scan QR code in the picture to sign up. We will send you Zoom No. later. Don't miss the opportunity! Come and sign up!