release time:2022-09-08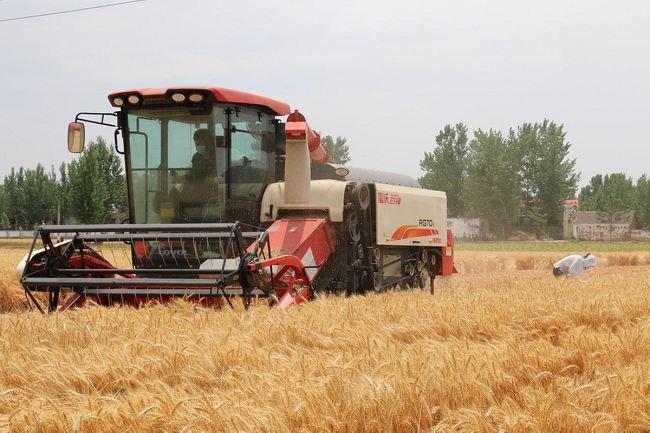 Key words of the passage: agriculture; farmer; grain; food; farmland
The global food crisis triggered mainly by the ongoing Russia-Ukraine conflict should remind us that the 1.4 billion Chinese people have no other choice but to hold the rice bowl themselves to safeguard food security.
To ensure enough food for the Chinese people has always been a challenge for the country's leadership because of the ever-increasing population and limited cultivable land. Although China managed to more than double its GDP over the past decade, its grain production increased by only about 10 percent during the period-from 612.22 million metric tons in 2012 to 682.85 million metric tons last year.
Even that growth could not have been achieved without a series of preferential policies issued by the central authorities to boost the development of the agriculture sector, better protect farmlands which otherwise could be "nibbled away" by real estate developers and bolster R&D to increase per-hectare output.
Recent statistics show that China now has 1.918 billion mu of farmlands, which means 1.37 mu (0.0913 hectare) per capita. Yet despite the limited cultivable land, China produced 483 kilograms of grains for every citizen last year. For a quick comparison, before the 1990s when the Chinese people depended on a food rationing system, per capita grain quota was about 130 kg per year.
Realizing that China cannot rely on the global food market to feed its huge population, the central government has taken measures to ensure the Chinese people hold the rice bowl in their own hands. For 19 consecutive years, the first document the central leadership issues each year has focused on agricultural and rural development.
Agriculture tax, in practice for about 3,000 years, was abolished in 2006 to ease the burden on farmers. To encourage farmers to boost production, subsidies were given on seeds, fertilizers, pesticides and agricultural machines. And when farmers became worried about the farm products' price fluctuation, the authorities offered a grain purchase protection price.
Besides, when some rural residents stopped farming because they could not earn enough due to the small size of their plots, governments at different levels helped them to lease their land to those engaged in large-scale farming, thus achieving a win-win result. The plot owners either got employment in the big farms or migrated to cities or towns in search of better-paying jobs while getting a fixed amount as rent on their leased plots every year.
However, some developers have illegally built factories or commercial housing complexes on fertile farmlands. To stop such encroachments on cultivable land and ensure the total cultivable land doesn't shrink any further, the central government has taken stringent measures, including satellite monitoring and on-the-spot investigation, while punishing officials for any dereliction of duty and demolishing illegally constructed buildings to reclaim farmlands.
The fact that China has relatively limited cultivable land and its per-hectare output is already one of the highest in the world prompted the authorities to strengthen research and development to boost production. The country has invested heavily in this sector, especially in grains breeding.
Yuan Longping, pioneer of hybrid rice, devoted his entire life to agricultural science. Thanks to his efforts, per-hectare rice output in China and many other parts of the world increased by about 20 percent. The added output alone would be enough to feed hundreds of millions of people worldwide. When he passed away last year, the entire city of Changsha, his hometown, lined up in the streets to bid farewell to perhaps the most respected scientist in China.
Following in Yuan's footsteps and encouraged by the government, thousands of agricultural scientists are working to raise the per-hectare output of rice, wheat, corn and other crops. And they have reported some breakthroughs.
China has been feeding nearly 20 percent of the global population with just 9 percent of the world's cultivable land. With the central authorities sticking to their policy of prioritizing agriculture and the invaluable contributions of scientists, it looks like the Chinese people will not only hold the rice bowl in their own hands but also have all kinds of delicacies in the bowl.
Source: China Daily