release time:2023-02-21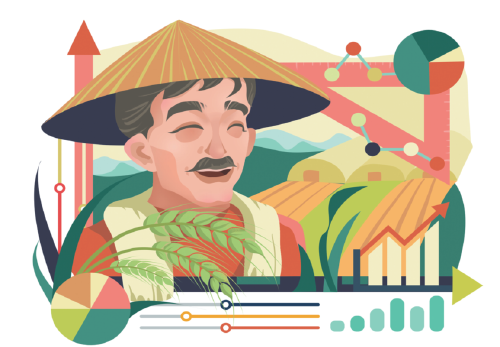 Soil health management crucial to ensuring the high-quality development of agriculture
The Chinese government has prioritized high-standard farmland since 2004, with the annual "No 1 Central Document" emphasizing its construction. By the end of 2022, the country had 1 billion mu (67 million hectares) of high-standard farmland, accounting for over half of all arable land across the country. That has contributed to the country's bumper grain harvest, which has been over 1 trillion jin (500 billion kilograms) for 19 consecutive years.
The coming 10 to 15 years will be a crucial period for pushing green and high-quality agricultural development. Despite some achievements made in the past, there are still many challenges ahead.
First, the standard of farmland construction is low in China, and it can't meet the demand for long-term protection. In the past, the construction of high-standard farmland was mainly focused on increasing grain output, and insufficient attention was paid to environmental protection. In some localities, the construction of high-standard farmland fails to meet the national standard of 15-year usage, let alone the 30-to-50-year service life in Japan.
Second, extensive agricultural production poses a risk to soil health. From 2010 to 2020, the use of pesticides and agricultural film per unit of farmland increased by 7.89 times and 11.63 times respectively. The amount of pesticide used grew from 13 kg/hectare to 102 kg/hectare, and the use of agricultural film soared from 16 kg/hectare to 186 kg/hectare, leading to severe soil pollution.
Third, the lack of monitoring and follow-up protection measures, coupled with the rise in agricultural production costs, has led to a decline in farmers' incomes. The net profit per mu of the three major crops — rice, wheat and corn — decreased from 39.43 yuan ($5.7) in 2001 to — 30.53 yuan in 2019. This has indirectly caused illegal activities such as hunting earthworms with electricity, and stealing and selling black soil, which has caused severe damage to the soil.
The report to the 20th National Congress of the Communist Party of China stressed that China must retain a "redline" of 1.8 billion mu of arable land, and gradually turn all permanent basic farmland into high-standard farmland, which means the country aims to build 1.55 billion mu of high-standard arable land. Healthy farmland which is ecologically sustainable and biologically diverse is the foundation for a country's food security. This year's "No 1 Central Document" for the first time made the pledge to "crack down on illegal acts that damage soils such as hunting earthworms using electricity" and testifies to the nation's resolve to push the construction of high-standard farmland.
To achieve the goal, the country needs to make efforts on several fronts.
First, implementing policies to realize healthy farmland. To achieve the United Nations Sustainable Development Goal on sustainable agriculture, the United States launched initiatives for sustainable agriculture namely "Rethink Soil — A Roadmap to US Soil Health" in 2017. The European Commission also launched its "Farm to Fork Strategy" that aims to ensure a sustainable food value chain in 2020. In the same year, the UN Food and Agriculture Organization rolled out "Voluntary Guidelines Sustainable Soil Management" for delivering multi-ecosystem services.
China should implement soil health management throughout the whole process of high-standard farmland construction. Before construction, it should enhance the identification of farmland with health risks and nip the risks in the bud; during the construction, it should clarify requirements related to soil health, such as environmental protection, soil pollution treatment and restoration, and encourage the application of green technologies including soil carbon sinks and reduction, and biodiversity protection; after high-standard farmland is constructed, the focus should be put on the management of green farmland facilities, the categorization of soil health risks and the formulation of evaluation standards.
Second, the evaluation and monitoring system for soil quality needs to be improved. Based on the results of the third national soil census, the country's evaluation of soil quality should include positive indicators such as the diversity of soil microorganisms, arthropods and earthworms, as well as negative indicators such as pesticide residue, degree of alkalization, pollutants in plants, and heavy metals so as to enrich the evaluation system for soil health.
Third, soil health improvement projects should be carried out. Comprehensive soil improvement methods should be used to identify factors hindering productivity and fertilize middle- and low-yielding farmland in the Bohai Rim, hilly areas in the Southwest, and farming-to-pastoral transition zone in Inner Mongolia. Additionally, measures like fallowing and improving farmland layout can be employed to tackle underground water depletion in North China, black soil degradation in the Northeast, and heavy metal pollution in South China, respectively. Soil health monitoring projects should be launched to safeguard quality for fertile farmland in the bread baskets of Sanjiang Plain, Songnen Plain, Huang-Huai-Hai Plain, Sichuan Basin and the middle and lower reaches of the Yangtze River.
Last but not least, a long-term management mechanism should be formed. In its drive to push the transition of the construction of high-standard farmland from patch to region, China could increase the profits of farmers with improving farmland production models at different levels. At the land plot level, the optimization of farmland production units can be promoted to improve production efficiency and reduce costs, such as the Chongzuo model, which refers to a company-dominated land consolidation model, and has been implemented in the Guangxi Zhuang autonomous region, also the Lishu model, which refers to the agricultural cooperatives-dominated land consolidation model adopted in Jilin province.
At the level of counties, efforts should be made to develop circular agriculture to minimize the negative environmental impacts. For example, the Qianjiang model of integrating crayfish-rice co-farming in Hubei province; the Liuzhou model of integrating river snail-rice co-farming in the Guangxi Zhuang autonomous region. For region or country level, governments need to make efforts in high-standard farmland planning from a macro-perspective, and enhance the link between local producers and consumers in other regions to promote interregional coordinated development. Governments at the regional and national level should focus on high-standard farmland planning and improve the linkages between local producers and consumers across regions to promote interregional coordination.
Source: China Daily