release time:2020-06-15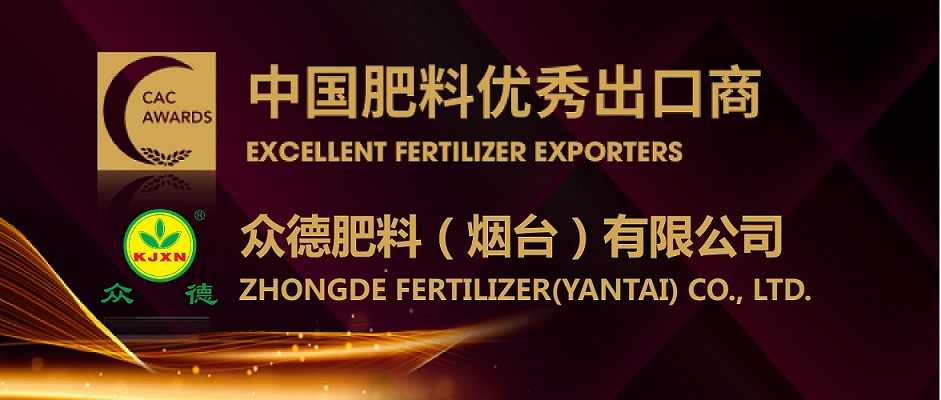 Zhongde Kali-K+S Project office building roof-sealing ceremony

All the ardent anticipation will eventually live up to expectation.
The colorful flags fluttering on the construction site of the Zhongde Group Kali-K+S Project, The body of Zhongde Kali-K+S Project office building was adorned stately by red Blessing banners. Kali project ushered in a historic moment with special significance: the office building roof is going to be sealed.
Yantai Zhongde Group Co., Ltd. General Manager Mr. Wang Qixuan, Deputy General Managers Mr. Song Rencheng, Mr. Yan Hongtao, Mr. Wang Weihan and other heads of company departments, as well as the leaders of construction unit, supervision unit, design unit and other related unit and media friends, all witnessed this exciting moment.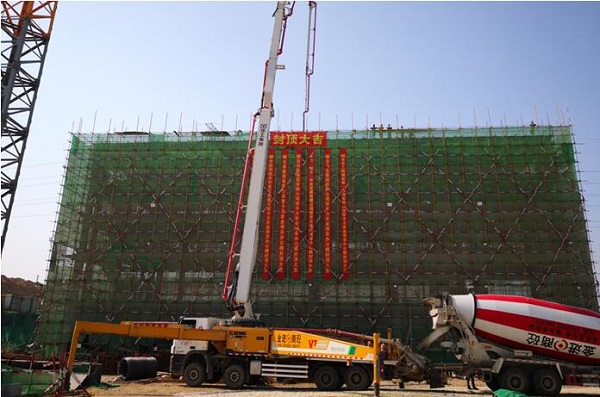 The office building will be sealed its roof
Affected by COVID-19 pandemic, the construction progress of Project was once blocked, but with the care and support of the relevant department leaders of Yantai YEDA Administration, Zhongde Kali-K+S Project strictly obeyed the pandemic prevention requirements and controlled the quality of the project, has won valuable time by working idea of "racing against time, organizing constructors, grabbing materials", and achieved roof-sealing of the office building main structure on time.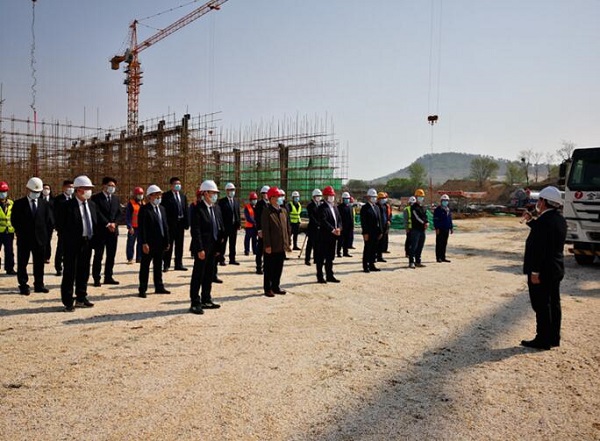 Speech by General Manager Mr. Wang Qixuan
In the warm applause, General Manager of Yantai Zhongde Group Co., Ltd. Mr. Wang Qixuan made a speech, expressing a warm welcome and respect to all guests. He appreciated all the support and hard work for every unit and every person. He said that the roof-sealing of the main office building of the project is a major breakthrough in the construction of the Kali-K+S Project.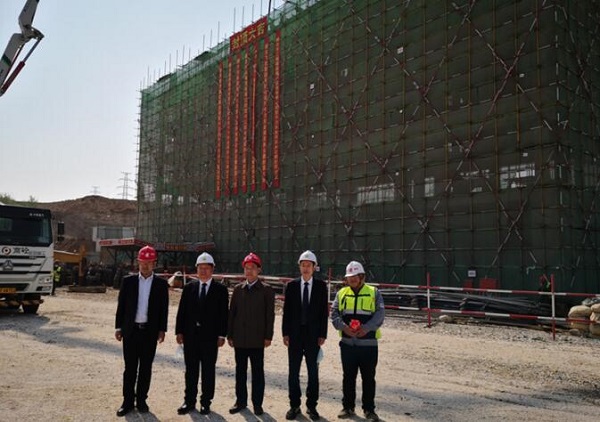 a group photo of Mr. Wang with leaders of construction unit and supervision unit
In future, Zhongde Group will position the project as a support to national agriculture strategy of reducing fertilizer and increasing efficiency. After the project reaching production, it can increase the supply channels of potassium fertilizer resources, make up the shortage of domestic potassium fertilizers, and play an important role in ensuring national food security. Specifically, that is to take full advantage of Yantai's marine resources, combined with the use of natural active substances extracted from seaweed extracts, fish protein and marine microorganisms, can improve fertilizer utilization, improve agricultural product quality, and reduce soil pollution.
With the announcement of the official roof-sealing by General Manager Mr. Wang Qixuan, the ceremony was pushed to a climax. There was full of firecrackers and people were jubilant. The roof-sealing ceremony was successfully concluded.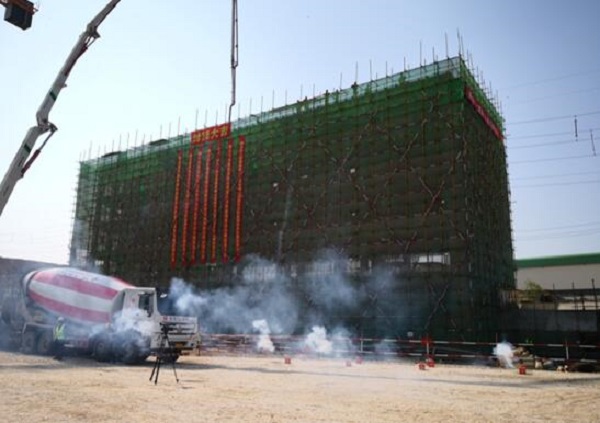 Zhongde Kali-K+S Project will optimize and upgrade the industrial layout of the Bajiao Chemical Park in YEDA, and provide strong support for the strategy of replacing old growth drivers with new ones of Yantai. After the project putting into production, it can fully consume the by-product ammonium sulfate of Wanhua Group, which is also located in the chemical park of YEDA, and joint a part of Wanhua Group's industrial chain, Matching Wanhua's annual output of more than one hundred thousand tons of ammonium sulfate with Kali factory, to turn it into a new product and export to foreign countries.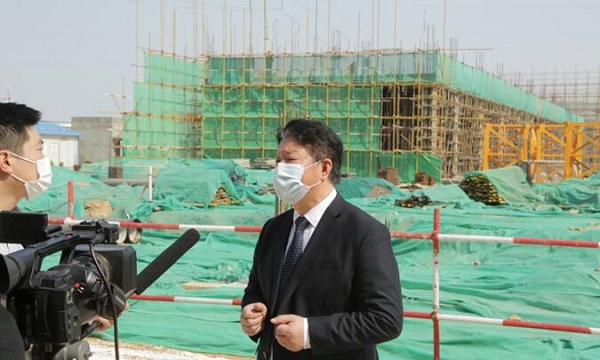 Mr. Wang interviewed by TV station
From an empty land to a perfect roof-sealing, from the illusion of a good life to the completion of project main building; from the drawings full of imagination, to the tall and straight buildings, the construction team of Kali Project has lived up to its original intention, insisted day and night, always adhere to high-standard operations, strict requirements in the construction link. The hardship and bitterness, maybe only everyone involved in the construction can appreciate it. Thanks to every colleagues who participated in the project construction.
The Kali-K+S Project was originally planned to be completed in mid-August 2020, and trial operation will be conducted by the end of 2020. At present, the construction unit is rushing to complete the construction schedule. After completing, it will annually produce 300,000 tons of Potassium Magnesium Sulfate, Potassium Magnesium Chloride, Ammonium Sulfate, and new compound fertilizers, with an annual output value of 880 million yuan and profit and tax of 120 million yuan.